Summit County Fall Hiking Spree in 1 Day
My family enjoys the Fall Hiking Spree put on by Summit County Metro Parks every year. Last year my oldest daughter (Daleen) and I came up with the crazy idea to complete the entire Fall Hiking Spree in one day. We did give it a test run on the Spree For All which is the same thing but during the spring time instead of fall time.
We wanted to accomplish this task on the opening day of the Fall Hiking Spree, but had a prior engagement (family vacation) already scheduled, so we missed the first day. Without having a special day now in focus, we just picked one at random when we were feeling good. That day was October 7th.
Daleen is homeschooled, so I gave her a school assignment: look at all of the available trails to hike as well as the park locations, compute the most efficient route taking into account the park location, trail length and difficulty level. From that, she created an organized trip itinerary with no back and forth traveling and one we could get done in the least amount of time.
Our day started at 6am where we got into our hiking clothes, gathered snacks for the trip, and loaded the car. We were gone by 6:30am, arrived back home at 3:08pm and hiked 8 trails totaling 12.6 miles. Arriving back home, we were beat but already planning the next Fall Hiking Spree, which we think we can get done by lunch this next time around.
Deep Lock Quarry - Quarry (1.2 mi, 7:01am - 7:30am)
We had to leave in this first shot, Daleen really liked our shadows cast by the high beams on the car.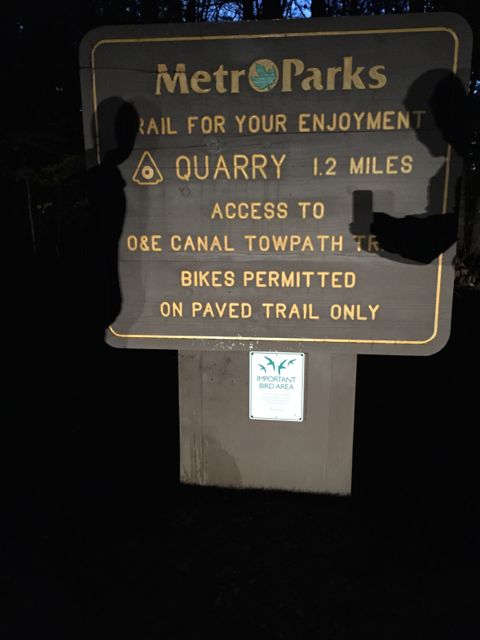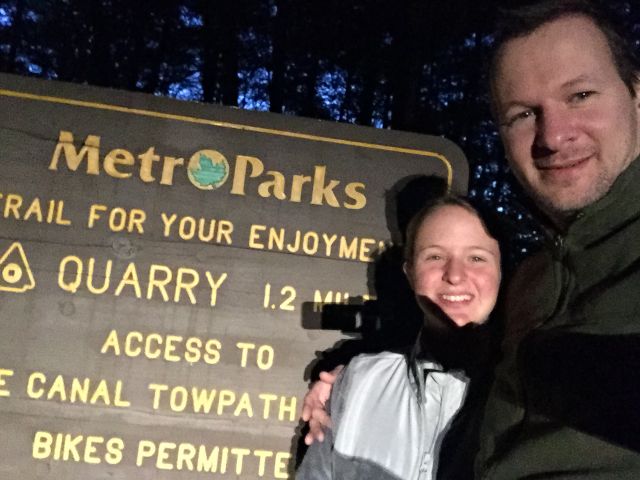 Furnace Run - Rock Creek (1.0 mi, 7:51am - 8:14am)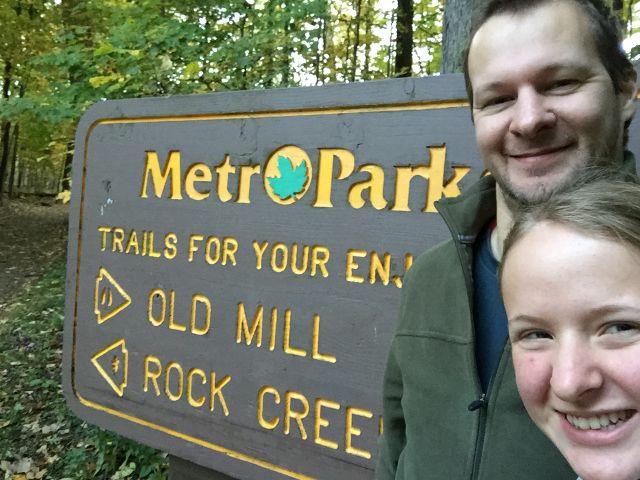 Nature Realm - Cherry Lane/Fernwood Loop (1.1mi, 8:41am - 9:00am)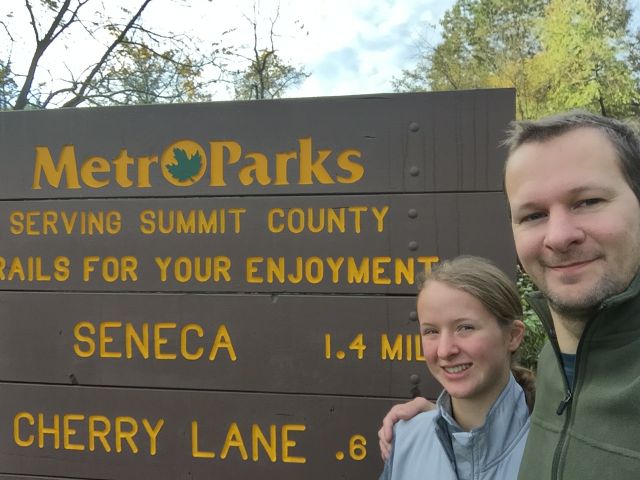 We saw 18 deer total on this trip, mostly on our morning hikes. These three deer at Nature Realm gave us the best show. We got pretty close to them. Please bear in mind these are shots from a cell phone. Try to find all three deer in this photo.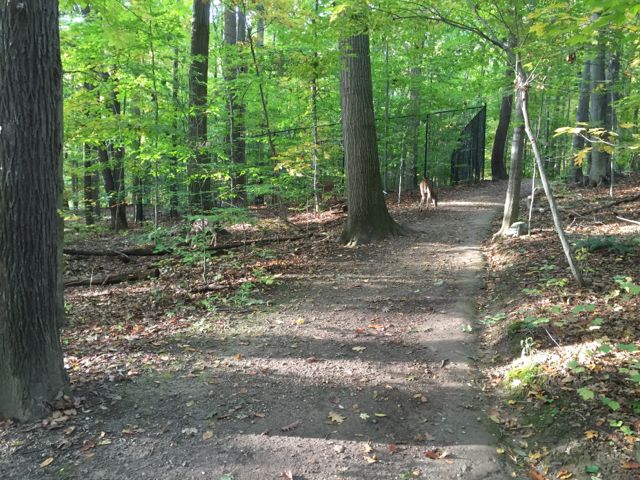 Here are two different deer on either side of the path. Keeping our pace up we split the group of three into two.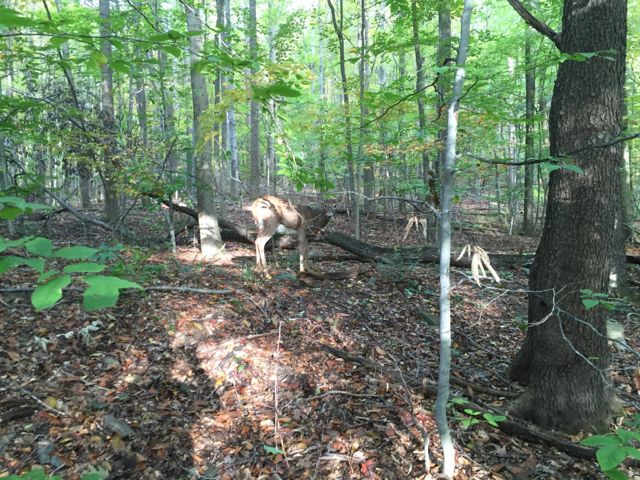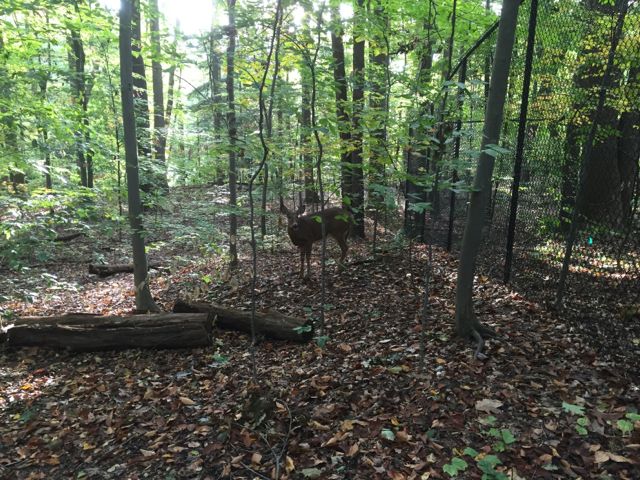 Sand Run - Dogwood (1.8 mi, 9:12am - 9:56am)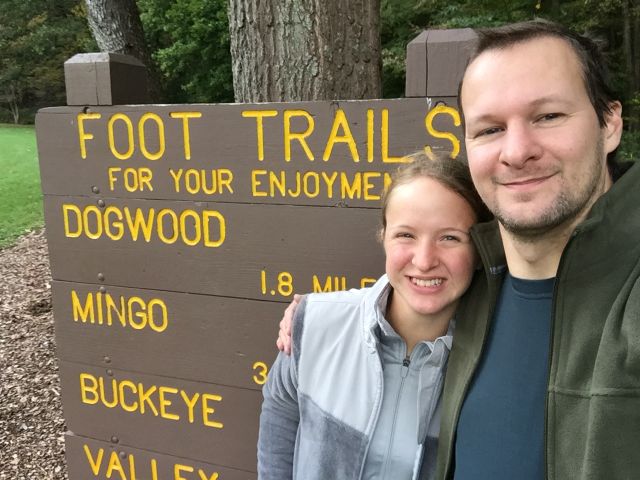 Luck Shoes Detour
I had been out shopping for general shoes the prior day and really wanted to try on a few other shoes before I forgot what the other ones felt like. We were ahead of schedule, so here we detoured via Fairlawn to visit Lucky Shoes. That cost us about 50 minutes, but I got a nice pair of casual shoes!
Gorge - Highbridge (3.2 mi, 11:12am - 12:11pm)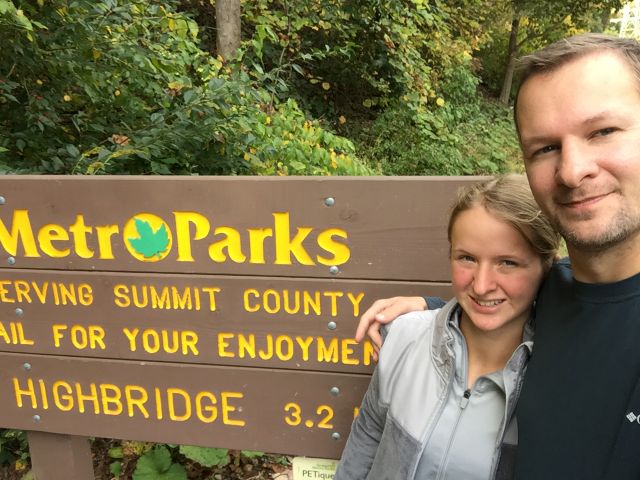 Goodyear Heights - Piney Woods (2.0 mi, 12:53pm - 1:34pm)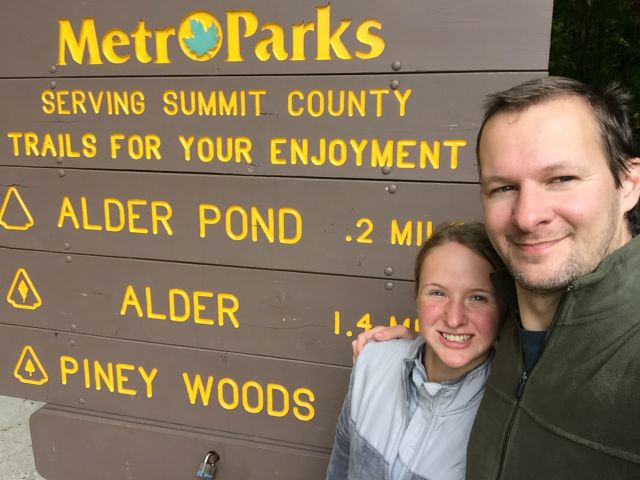 Firestone - Redwing (1.1mi, 1:56pm - 2:19pm)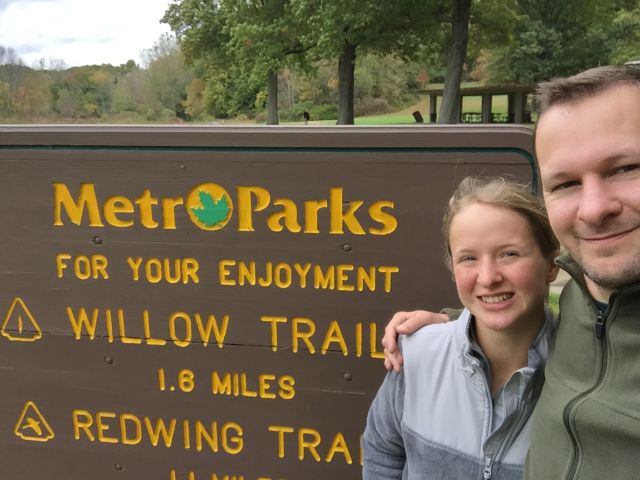 Silver Creek - Pheasant Run (1.2mi, 2:40pm - 3:03pm)
Silver Creek is our home park. With the new purchase there, we are actually now surrounded by Silver Creek park, so this is our final trek.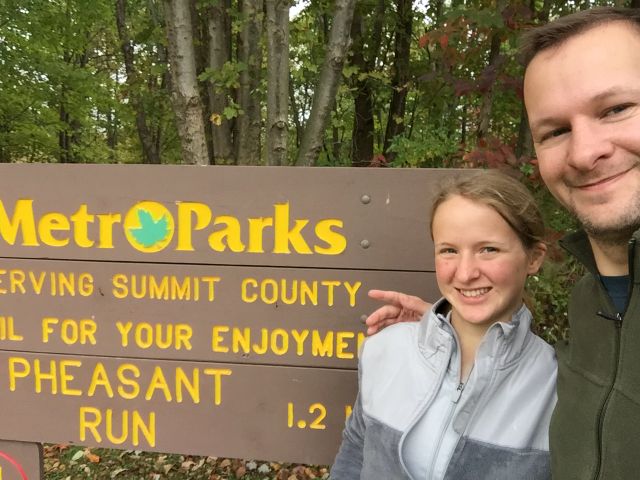 Home (3:08pm)
We very much enjoyed the Fall Hiking Spree this year. As a family (wife and 4 daughters) we have been hiking the Fall Hiking Spree aside from this. As a family, we have 5 of the 8 hikes done and will be finishing up in the coming weeks.
If you have not tried the Fall Hiking Spree put on by Summit County Metro Parks yet, please do, you will not be disappointed!
Share